Please meet our top breeders. Not only are they beautiful, with solid bloodlines, but fun and loving companions. You can click on each picture to see its pedigree. Scroll down further to meet the CURRENT LITTER of puppies we have for sale. Sometimes we are in between litters so puppies might not always be available; however, we may have breeding or show-potential dogs for sale. Please contact us for more information.
 APRIL 2022 LITTER

Contact us if you are interested! More photos posted soon!
Call Charlee at the farm (808) 332-7900.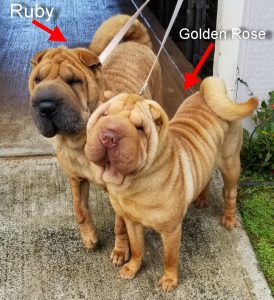 Kauai King Kaluamoa Golden Rose – Apricot brush coat female. Shown here with her mom "Ruby". Both are stunning examples of the Chinese Shar-Pei and of great value to the breed and our Kauai King Shar-Pei breeding program. "Rosie" is loving, patient, calm, and has inherited the "friendly to all" gene. Click Here for a photo of Rosie lounging in her play yard.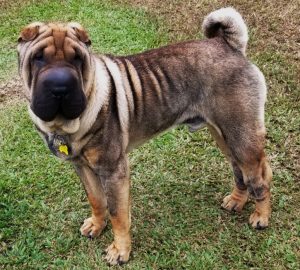 KAUAI KING KALUAMOA EPIC TITAN – Tan Sable Male with the most outgoing of personalities. "Titan" is a happy-go-lucky boy, loves to play with his toys, and throwing them high in the air and pouncing on them. He is confident and loves to be adored – "a real ham". Click Here for head shot photo.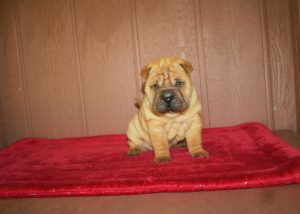 CHARMING STARLET – Female Red Fawn. The only girl in this lively litter of boys. Able to hold her own! Beautiful pudgy face with dark mask. She is sweet in nature and energetic. Click Here for another photo. Photo taken May 8th.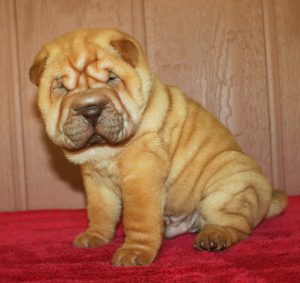 BUFF JET – Male Red Fawn. Cobby muscular body. Handsome face, short brush coat, cooperative, loving, beautiful type, and happy in spirit. Click Here for another photo. Photo taken May 8th.
Charlee D. C. Abrams, Owner
Kaluamoa Farms
P. O. Box 1040
Lawai, Kauai, Hawaii 96765
Phone/fax:  808-332-7900
e-mail:  charlee@kaluamoafarms.com