Please meet our top breeders. Not only are they beautiful, with solid bloodlines, but fun and loving companions. You can click on each picture to see its pedigree. Scroll down further to meet the CURRENT LITTER of puppies we have for sale. Sometimes we are in between litters so puppies might not always be available; however, we may have breeding or show-potential dogs for sale. Please contact us for more information.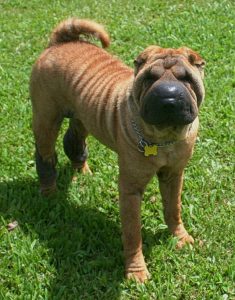 Kauai King Kaluamoa Flame Away – Red Fawn brush coat. She is bright, eager to learn, and stunning in look. She is the mother of Rocket Man and helping him learn good behavior and proper deportment. Click Here and Click Here for another photo of the mother.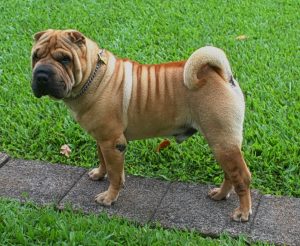 Chernyi-Chizh Marzipan for Margem Hills (Russia) – Red fawn horse coat male. Father of Rocket. "Marz" is imported from Moscow, Russia. He is happy-go-lucky, loves to play, and is everyone's best friend! Click Here for another photo of the father.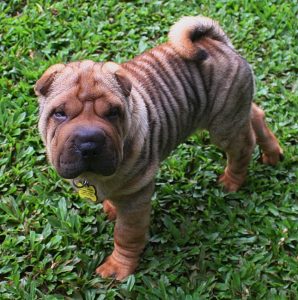 Rocket Man – Stunning sable male with black mask. He has a muscular body and beautiful head type. He is wrinkled, easy going, and calm in nature. Rocket Man is for sale. Click Here and Click Here for another photo of Rocket. Photos taken 4/18/20.
Flame helping Rocket learn how to walk on a leash and understand how to sit. 4/18/20
Charlee D. C. Abrams, Owner
Kaluamoa Farms
P. O. Box 1040
Lawai, Kauai, Hawaii 96765
Phone/fax:  808-332-7900
e-mail:  charlee@kaluamoafarms.com