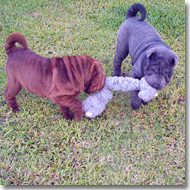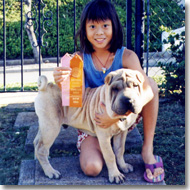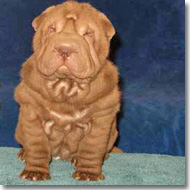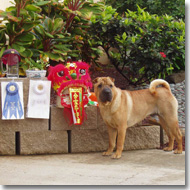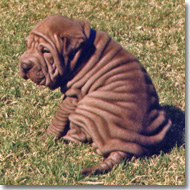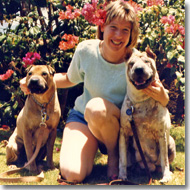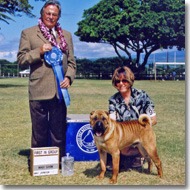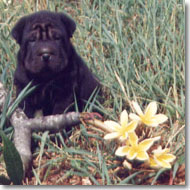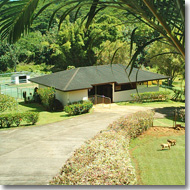 ORIGIN AND HISTORY
Dogs of Antiquity
It is thought that the Chinese Shar-Pei breed originated over 2,000 years ago in China. The exact area is not clear. Specific locations such as Tibet, the small town of Dahlet (in the province of Kwun/Kwang Tung), and the village of Tai Li (in the same province) have been mentioned but no one knows for sure.
Artifacts from the Han Dynasty (206 B.C.) have been found in the ancient tombs that bear close resemblance to the breed as we know it today. Archaeologists who discovered these canine-like ceramic statuettes and figurines have called them the "Chinese Tomb Dogs."
The Shar-Pei is believed to share a common ancestry with other Chinese breeds. The Chow-Chow is the only breed with blue-black tongues: the Great Pyrenees with their unique double dew claws; and the Tibetan Mastiff has a similar head structure.
Guard Dogs versus Fighting Dogs
For hundreds of years the Shar-Pei has often been known as "Chinese Fighting Dogs." This fighting dog description, however, is more myth than reality. Although used from time to time by peasants in a dog fighting and gaming operation, the Shar-Pei was actually a working farm dog. Their loyalty and intelligence made them excellent working dogs for peasants living on isolated farms.
The "fighting dog" description has been erroneously perpetuated over the years probably due to a language translation problem. In China, dogs that are used to protect and guard are called fighting dogs. But guarding the family farm did not include fighting, unless the dog encountered a predator animal.
Dogs are Forbidden in China
Although most Americans consider having pets as a normal part of life, this is not the case in many foreign countries. With the Communist takeover of China, pets soon came to be something only the wealthy could afford. Having a pet was considered "bourgeois" and pet owners were taxed accordingly. With the terrible food shortages that the country suffered, dogs were eaten and/or destroyed for their hides. By 1970, a Hong Kong resident, and Shar-Pei fancier, Matgo Law, set out to save the dog from extinction. In 1973, Mr. Law sent a letter and pictures to Dogs Magazine describing the plight of the Chinese Shar-Pei breed and asked American dog lovers to help save the breed. Over 200 people responded to his letter and a limited number of Chinese Shar-Pei were exported to the United States.
Shar-Pei in the U.S.
The Chinese Shar-Pei Club of America (CSPCA) was formed in 1974 by some of the original importers of the breed, with the first pedigree certificate being issued in 1976. In January 1992, the American Kennel Club (AKC) accepted the Chinese Shar-Pei foundation stock. It is the largest breed, to date, that has joined the AKC. To learn more about the Chinese Shar-Pei please visit these websites:
Chinese Shar-Pei Club of America
Arrival in the Aloha State
Chinese Shar-Pei dogs were fist introduced to Hawaiian dog fanciers in 1983 on the island of Oahu. Development of the breed was slow, however, due to the substantial expense of purchase, transportation, and quarantine. Even by 1986, there were only 22 registered Shar-Pei and all located on Oahu.
Shar-Pei on Kauai
Virtually unknown to any of the neighboring islands outside Oahu, it was not until the arrival of Frank and Nancy Thomas, and their breeding pair on Kauai in 1984, that a single litter was registered outside of Oahu.
It was from this breeding, Boawnchein's Chow Yong x Borden's Mai-Li, that our first bitch, Thomas T'sung-Te was acquired. Our interest in the breed led us to Sedeki I Wuv Yor Rumples, imported to Hawaii from New York State, where he became our foundation stud dog.

Kauai King Shar-Pei
Kaluamoa Farms, located near the south shore of the Hawaiian Island of Kauai, is the home of Kauai King Shar-Pei Kennel. The Abrams family has been enjoying their Shar-Pei dogs since 1985.
Successful litters in 1987, and an overwhelming demand for puppies, prompted a visit with Matgo Law in Hong Kong during the spring of 1988. Encouraged and guided by his experience, Kauai King Shar-Pei Kennel was born — "Te" and "Rumples" our able and co-operative foundation!
Over the past 35 years, the award winning Kauai kennel has bred, whelped, raised, trained and shown almost 500 dogs in the state of Hawaii and beyond.   Always concentrating on health, temperament, and type, Kauai King Shar-Pei has expanded and improved breeding lines to include some of the best in the world today.
Because Hawaii is rabies free, Kauai King Shar-Pei Kennel is able to ship puppies and dogs without animal quarantine restrictions to most countries in the world, creating an international market for their progeny.
Kauai King dogs excel in both the obedience and show rings and can be found not only in Hawaii but all around the world.
If you are ever on Kauai, you are welcome to stop by Kaluamoa Farms for a visit to Kauai King Shar-Pei Kennel — our dogs and puppies are always anxious to show off, and look forward to assisting you in the selection of your latest wrinkle!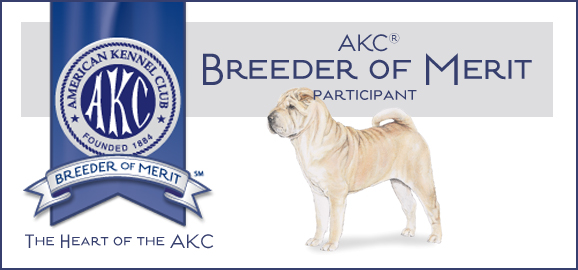 Header illustration by B. Adams
Charlee D. C. Abrams, Owner
Kaluamoa Farms
P. O. Box 1040
Lawai, Kauai, Hawaii 96765
Phone/fax:  808-332-7900
e-mail:  charlee@kaluamoafarms.com