Please meet our top breeders. Not only are they beautiful, with solid bloodlines, but fun and loving companions. You can click on each picture to see its pedigree. Scroll down further to meet the CURRENT LITTER of puppies we have for sale. Sometimes we are in between litters so puppies might not always be available; however, we may have breeding or show-potential dogs for sale. Please contact us for more information.
 APRIL 2, 2023 LITTER

See our currently available puppies for sale.
Please call Charlee at (808) 332-7900 for information about purchase and shipping.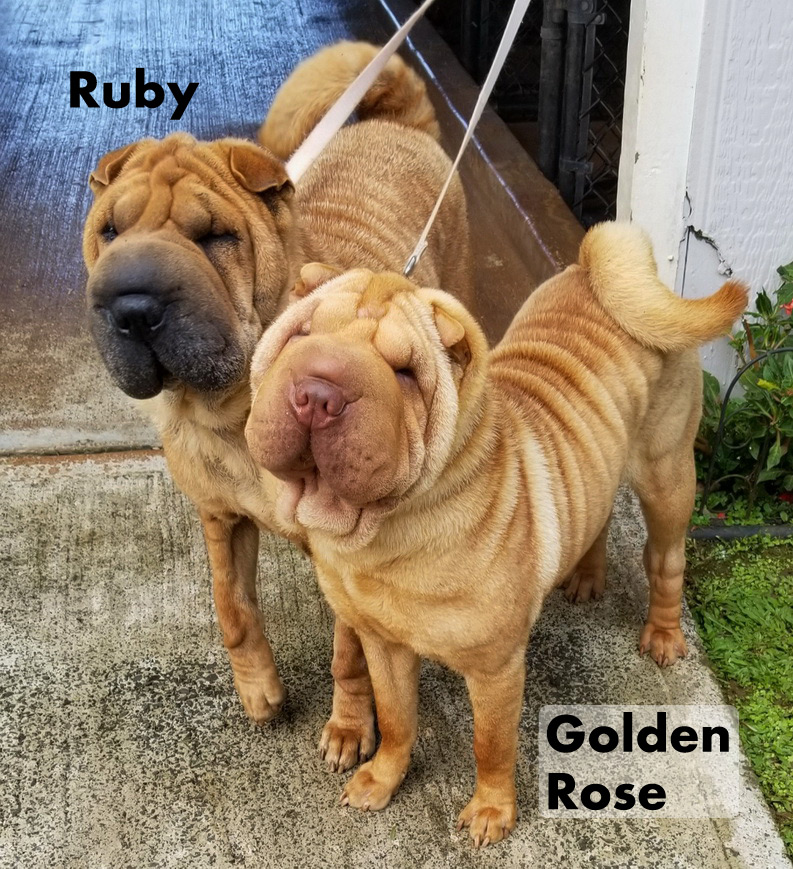 KAUAI KING KALUAMOA GOLDEN ROSE – Apricot brush coat female. Shown here with her mom, Ruby. Both are stunning examples of the Chinese Shar-Pei and of great value to the breed and our Kauai King Shar-Pei breeding program. "Rosie" is loving, patient, calm, and has inherited the "friendly to all" gene. Click here and here for photos of Rosie just before the arrival of her puppies.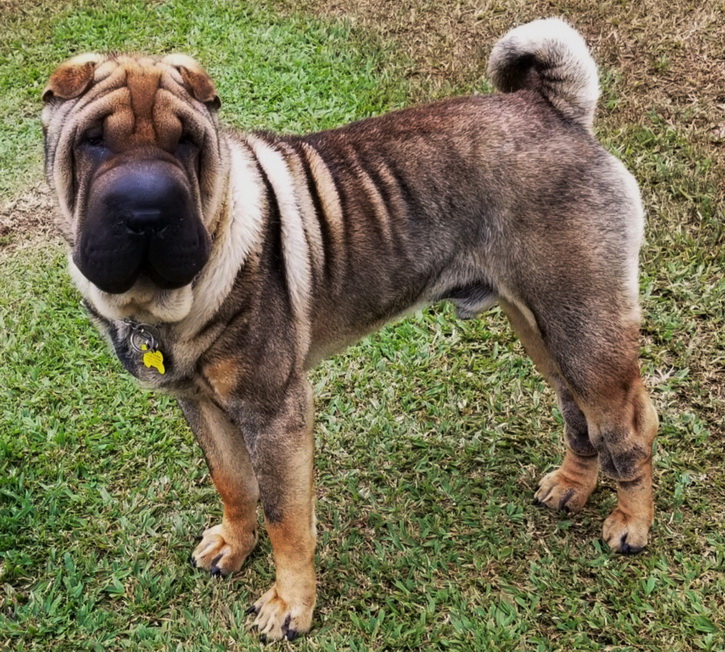 KAUAI KING KALUAMOA EPIC TITAN – Tan Sable Male with the most outgoing of personalities. "Titan" is a happy-go-lucky boy, loves to play with his toys, and throwing them high in the air and pouncing on them. He is confident and loves to be adored – "a real ham". Click Here for head shot photo.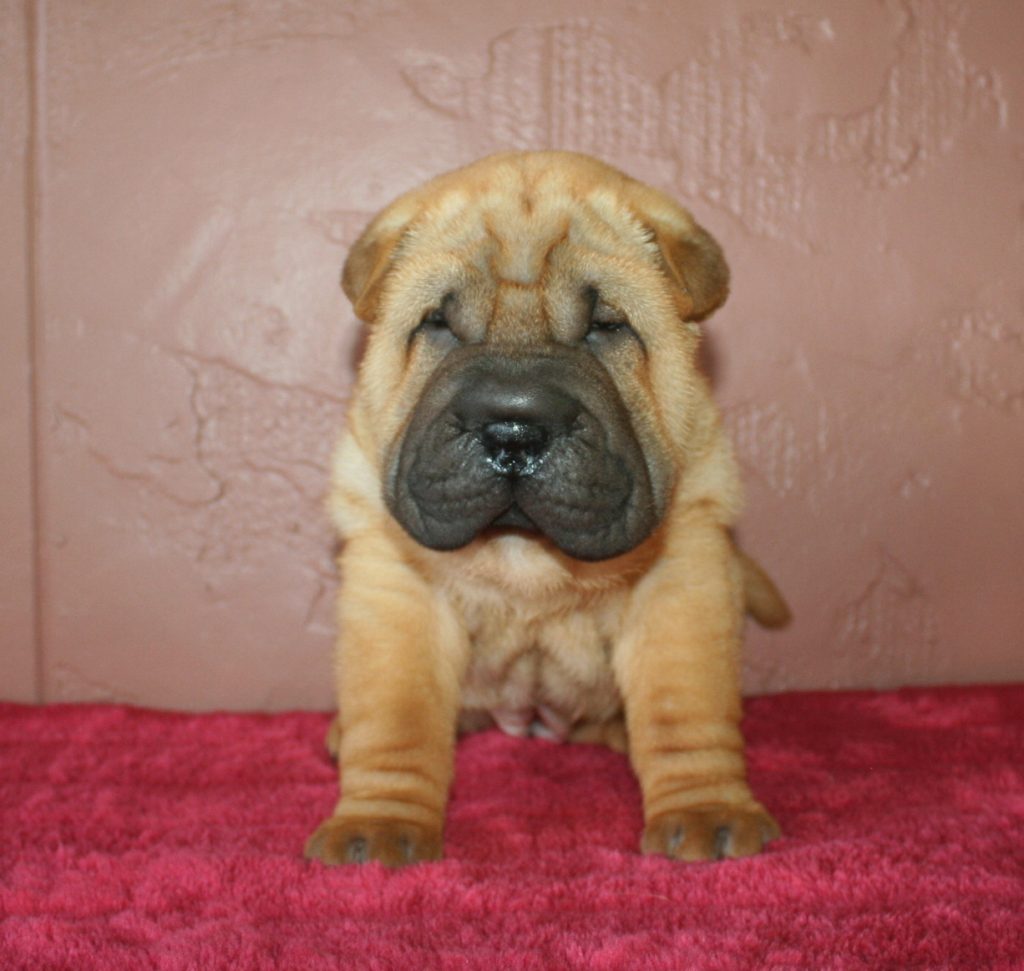 RAVING BEAUTY – Female, red fawn with black mask. Vibrant color with deep brown mask. Beautiful body and lovely pudgy face, she may be the smallest of the litter, but draws everyone's attention with her expressive deep brown eyes and wagging tail. Soft hair coat and full of wrinkles. Raving Beauty will be a charming, and enthusiastic companion, loving family member and exceptional, loyal friend. For more photos click here and here.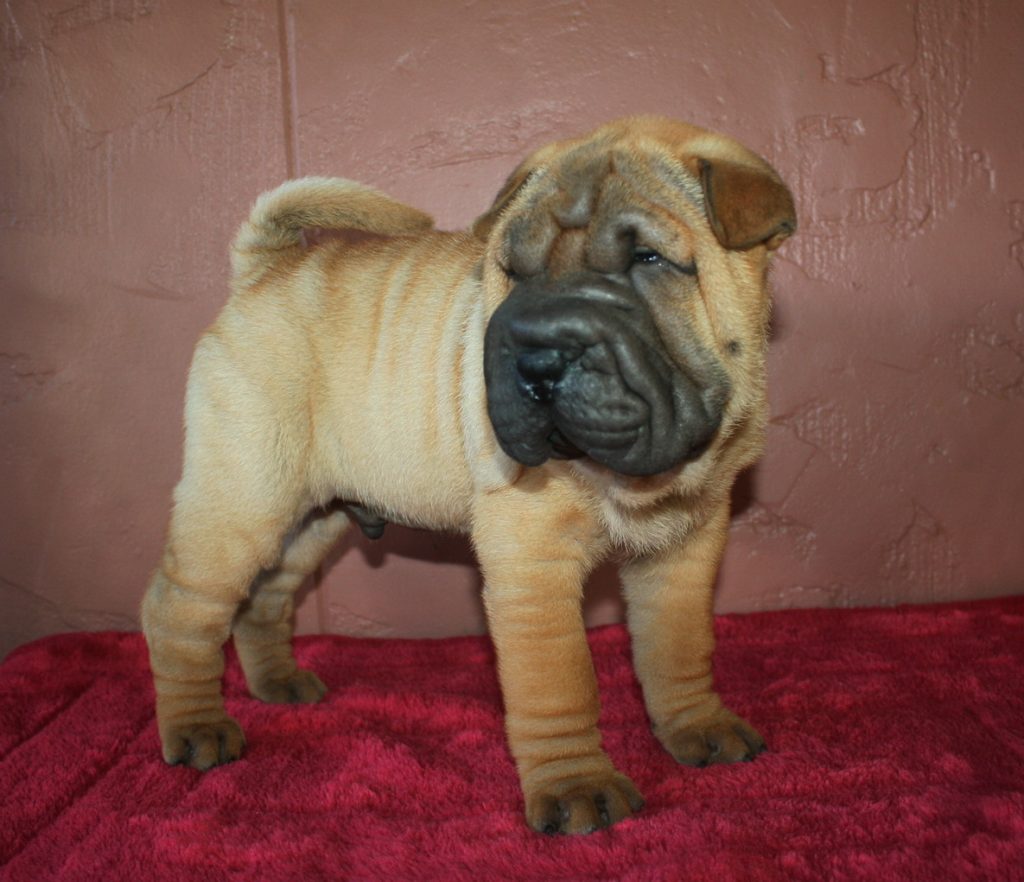 STRIKE MIDNITE – Male red fawn with black mask. Wonderful attitude and calm temperament. Built like his dad with sturdy body and beautiful type. He has a gorgeous head like dad's. Outstanding in overall look with deep brown eyes melting into the blackest of masks. Will make a loyal, obedient and watchful companion. Probably pick of his litter. Click here and here for more photos.
Charlee D. C. Abrams, Owner
Kaluamoa Farms
P. O. Box 1040
Lawai, Kauai, Hawaii 96765
Phone/fax:  808-332-7900
e-mail:  charlee@kaluamoafarms.com